Hotel Introduction
The Promisedland Resort & Lagoon is located at Shoufeng Township, the eastern part of Taiwan, the location of the resort is based on high mountain and deep ocean attractions which are richly endowed by natural scenery. In Shoufeng Township, with pure, non-polluted water resources in the county. there is truly favored by nature with beautiful views, a great place for tourism and giant spot events
Tel:03-86-56789
Hotel Address:No.1,Lisiang Rd, ShoufongTownship, Hualien County
Room Introduction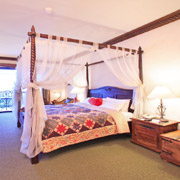 Texture of wave patternsAcconmodation feature with hand made roscwood furniture,tribal hancraft which offers a classic,traditional elegance sense.cordinaly invite you tu dance Fleminco
Leisure Facilities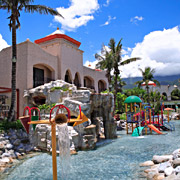 Boat ride to expeience exotic Venice sensation!
Riding boat through the lagoon cottages and landscaping is the best way to enjoy the spectacular view of the resort. Our hotel special trained GI will guide the hotel guests pass through 16 unique bridges and 8 boat docks, where are the most memorable experience to ride boat on day time or night time (Boat tour is about 15-20min)
Swimming Pool
There are three outdoor swimming pools with waterslide as well as whirlpool to ensure both families and couples are pleased in the Promisedland.
Themed party, have fun!
There are several sets of musical performances with live band and aboriginal dance every night. Our hotel special trained GI will guide hotel guest to join the fun. (show time from 21:00 - 21:40)
Restaurants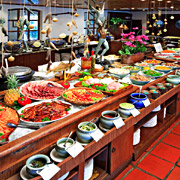 The Lyre Restaurant,which presents you with the Andalusían tastes of Spain, is located in the Hey Garden surrounded by a great green meadow. When sunshine penetrates the clear French windows, the light shining on the classical antique tables and chairs inside brings on an exotic mood for dining. The Chef specifically designs a wide range of Mediterranean foods made with choice fresh ingredients to satiate your taste buds. Our restaurant is divided into the Lyre Lounge, the Riverside Room, the Coconut Shade Room, and the Starry Sky Room, to accommodate about 300 guests for breakfast, lunch, dinner and tea.
Peripheral Scenes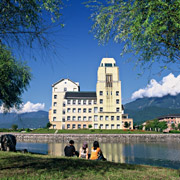 Clam farm - Lichuan
Lichuan is located just 5 min away from Promisedland resort, the palce with pure, non pullted water resource which sucessfully developed the golden clam essence, not only can visitors experience the local country flavor of the old-style clam catching, they can also try out Lichuan's unique fish foods at the "Old Diner's Private Kitchen".
Dong Hwa University
Dong Hwa University is located in shou feng township, occupied 251 hectare of land, which is the biggest university in eastern Taiwan, surround by huge moutains and sky, the European-styled building reflects its beauty on the surface of the lake, showing the exquisite atmosphere of the environment. Combining nature and civilization, this is an excellent place for cultivating great minds and personalities.
Carp Lake
Carp Lake is the largest inland lake in Hualien County. It earned its name because of the shape of mountains surrounding the lake. The highway that surrounds the lake is 4-kilometer long and will take the strollers an hour to walk along the lake. Tourists can enjoy various outdoor activities such as camping, picnic, or even paragliding soaring along the lake and the mountains. On a sunny day, you can also choose to paddle the boat or have a bike tour on the lake highway. You can also try the tasty raw and live shrimp. The night view of the lake is especially beautiful during April and June with the sprinkled moonlight on the lake and numerous glittering fireflies. As you visit the lake during the night, please make sure to tone down your voice and reduce the lighting so that the fireflies may not be distracted.
Directions
Taipei, Taichung and Kaohsiung - Hualien: Daily Promised Land Resort & Lagoon provides airport pickup service on a regular schedule. Guests can take a taxi to the resort. It is about a 40 minute ride, and the fare is about NT$600.